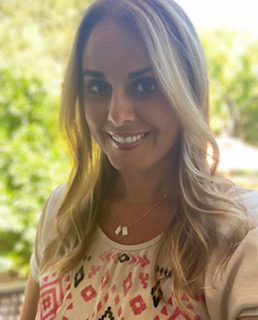 Noemi Manero was born and raised in Barcelona, Spain. She moved to the United States two decades ago, landing in the San Francisco Bay Area.
Noemi is a Balance Body Comprehensive Pilates instructor and intensely studying and teaching Pilates since 2016. She is also a registered teacher with Yoga Alliance since 2013.
One of her biggest passions is to paint. Today her paintings hang in private collections throughout Europe and California. Her work is known for its movement and emotion shown in it.
Many pieces have been sold to local and international collectors. Several of her paintings have been featured at Silicon Valley art shows, in addition to several private exhibitions. And two of her Barcelona pieces won in Barcelona, Spain.
When not painting at her studio, Noemi spends her time teaching yoga and pilates at her privately owned studio. She has a passion for deepening her knowledge of anatomy to better support her clients.
Noemi earned her Bachelor's Degree in International Business and Tourism University of Barcelona. Her early professional career was spent in consumer marketing at some of the best known companies in the world, including Virgin Airlines, GAP and Visa.
Contact her to receive updates on Noemi's work via email. She also regularly posts pictures of her paintings and other information on Instagram at #noemaneroart.
Websites, social media links
www.noemimanero.com
@Instagram; noemaneroart