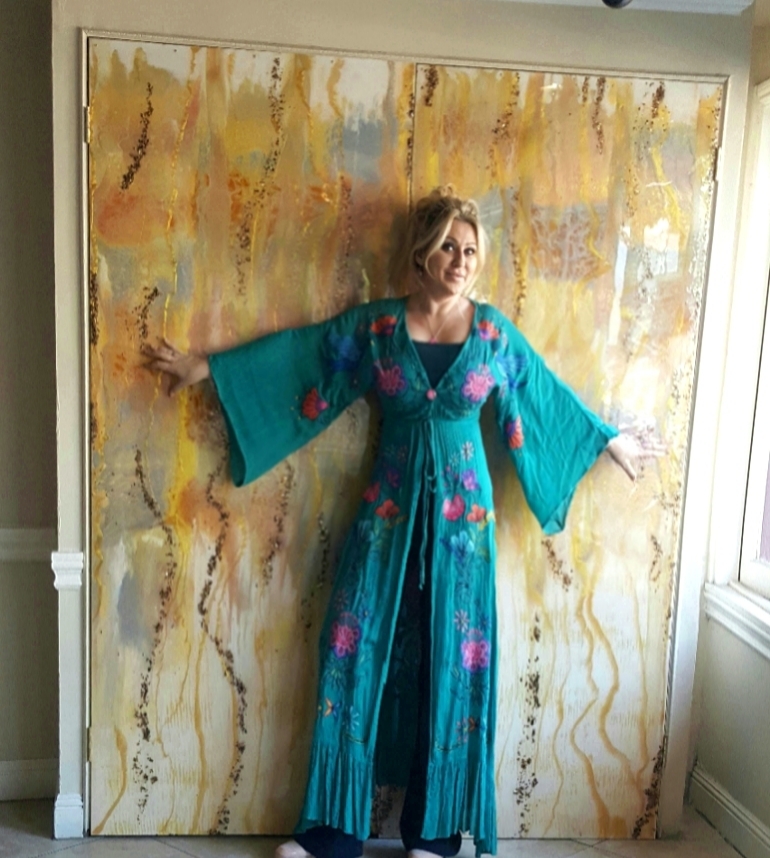 I moved to the US from Italy almost eight years ago. Being the daughter of a preeminent sculptor and professor at the Academy of Fine Arts in Florence, I was mesmerized by my dad's artistry. He taught me how to use colors to express my emotions. From a very young age, I started working on sketches, painting, and working with wet clay. My dad was my biggest supporter buying me crayons, brushes, and paint, while also having me assist him in small ways with the pieces he was working on.
Once I became an adult it was my dream to become a full-time artist, but since it wasn't feasible for me to make a living at it, I went to University at the urging of my parents. I never stopped being an artist. 20 years ago, I started a jewelry line where I created all the pieces. Even though it was a success as a side business, I always missed painting and getting lost in the myriad of different color combinations. It was always my passion.
One silver lining of the 2020 pandemic was that I decided to go public with the Manuela F Creations brand. My husband and I own an Italian restaurant.  New protocols regarding the limited usage of tablecloths allowed me to bring to fruition an idea that I had always had in the back of my mind, which was to make the tables unique by hand painting all twenty of them. This would allow us the ease we needed to keep our tables clean without the use of tablecloths.  It was a daunting task! Once we started serving dinners again, I was pleasantly surprised by how many customers loved what I had done with the tables and were encouraging me to make pieces that they said they would buy. Since then I have been fulfilling orders for people who are loving this style of art.
It has meant the world to me to have the opportunity in this country to fulfill a life's ambition that allows me to express who I really am.
My art is a combination of different techniques and mixed media all in one piece. I  work with acrylic paint, alcohol ink, and epoxy resin. Each single piece is absolutely one of a kind and tells its unique story.
My biggest source of inspiration is definitely Mother Nature, I love to mimic the real stone patterns in my geodes, to reproduce the absolute beauty of the flowers in my paintings, and the natural color shift of the ocean in my areal vision of the sea.
Art is my therapy, my joy, my cure, it has always been all my life.
My ultimate goal is to spread happiness one artwork at a time.