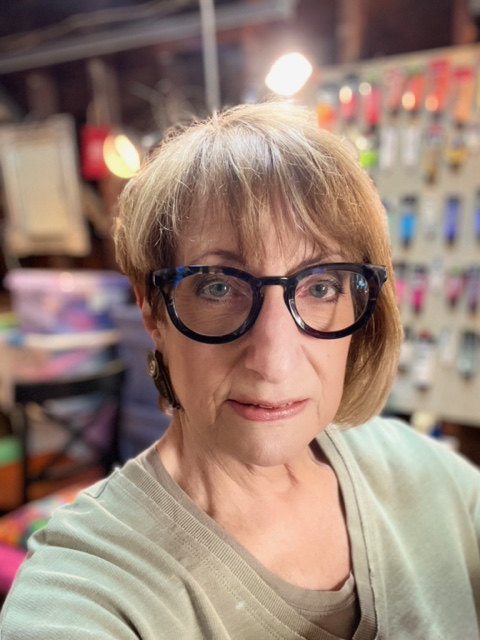 I trained as an artist at Philadelphia College of Art (PCA) (now the University of the Arts, Philadelphia, PA), preceded by extensive studies in art history at New York University. I majored in crafts at PCA with an emphasis on ceramics.
I began painting chairs over 30 years ago when I needed a dining room set. I made a table out of a door. Then, I went to used-furniture stores and gathered up a bunch of lonely chairs. One day, sitting at the table, I thought it might be fun to paint famous portraits on the chairs so I could eat dinner with fascinating people. Inspired by centuries of art, I painted Mona Lisa, Frida Kahlo, Vincent Van Gogh, Pablo Picasso and the old farm couple from "American Gothic." It was so much fun and made for a great conversation. I kept painting, even when my dining room was full.
Each original, one-of-a-kind, functional artwork is unique. I'm inspired by the chairs, because they remind me of a particular artist, or by the work of an artist I like. I design each chair by combining their paintings with motifs from the era in which they painted.
This year, I made special order custom chairs that reflected the person ordering the piece: a kayaker on the Salmon River, movie posters for Casablanca, digital art, video games and more. 
When preparing for this exhibit, I decided that surfers were perfect for Half Moon Bay. This series is inspired by retro surfer posters and graphics.
I've had an Etsy store since 2019, and I have sold more than three dozen chairs, many custom. Please visit my Etsy shop to see more chairs.
When I'm not in my studio, I am a fundraising events consultant working with nonprofits focused on making food and housing available for everyone in our community.
Please note, I can arrange shipping to anywhere in North America.