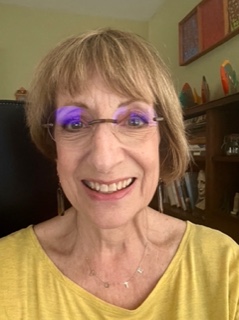 I trained as an artist at Philadelphia College of Art—now the University of the Arts, preceded by extensive studies in art history at New York University.
Inspired by centuries of art, each original, one-of-a-kind, functional artwork is unique. The chairs are often chosen because they remind me of a particular artist; other times, I start with an inspiration from an artist I like. I design each chair by combining their paintings with motifs from the era in which the artist painted.
For me, portraits are always front of mind. [Since 1990, I have run another art business—Primarily Portraits—that matches portrait subjects with artists who can make them immortal.]
Moving into a big house in my hometown of Philadelphia, I needed a dining table and chairs. I made a table out of a door. Then, I went to used-furniture stores and gathered up a bunch of lonely chairs. One day, sitting at the table, I thought it might be fun to paint portraits on the chairs so I could eat dinner with fascinating people: Mona Lisa, Frida, Vincent, Jane Avril, Picasso, and on and on. It was so much fun—and a great conversation! I kept painting, even when my dining room was full.
After arriving in San Jose in 2016, I set up a studio in my Willow Glen garage. I can often be found perusing the neighborhood on trash day—or Goodwill hunting—looking for the next chair. I've had an Etsy store since 2019, and I have sold more than two dozen chairs, several custom.