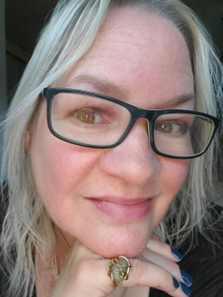 For Jo Fry, history is always bleeding into the present, affecting the way she sees and experiences the world.
As a child she was always drawing – friends, the horses that lived down the street. As a 16-year-old she studied history and design at the University of London, then earned a bachelor's degree with Honors in Interior Design from San Jose State, while taking oil painting commissions to earn extra money.
As an adult, she focused on a career in retail, and on being a single mom to two children after the death of her husband.  She became a school volunteer and taught Art in Action for El Granada Elementary. Although retail allowed her to do copywriting, product, and industrial design, it was a far cry from the creative world of her youth.
Now she is re-emerging – her love of beachcombing re-igniting her creative spirit. Inspired by a deep respect for the sea and its inhabitants, and the beauty of our coastline, Jo calls herself a Sea Glass Artist, and incorporates sea glass and finds into her paintings and wearable art. Her unique and original mixed media work is featured on the websites of Silicon Valley Open Studios and Red Bluff Art Gallery. She has been awarded a solo public art exhibit by Redwood City for July-August 2023.
Jo is a member of the Community of Coastside Artists and has shown work at many prestigious California Art and Sea Glass events.  She is a volunteer archivist and docent for the Half Moon Bay History Museum and authored articles on glass for the museum's website; her unbounded passion for the subject bringing meaning to the medium of sea glass, through her art and its links with the history of our community.
Published Articles: Half Moon Bay History Revealed Through Glass   Basic Guide to Bottle Identification