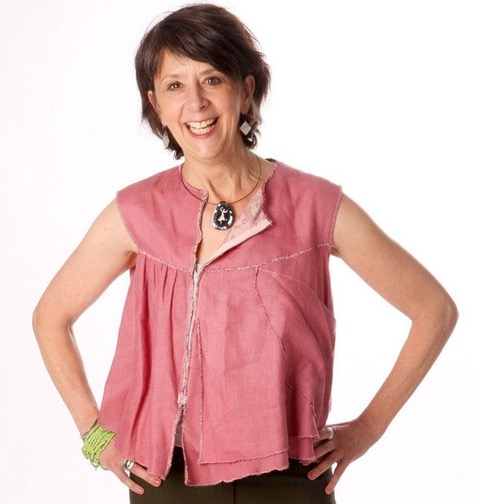 Ellen Brook is a mixed media artist, and fabric and fashion designer. Born in Cleveland, Ohio, Ellen began her artistic journey at age 40 in the San Francisco Bay Area and reoriented her life to focus on her art.
Whether creating an energetic mixed media collage, a luxuriously down-to-earth garment or an ethereal silk hanging, Ellen's work has been described as "visual poetry." She combines gesture, intuitive marks, layers of texture, and a passion for color to explore Eastern ideas related to the mind, the nature of the self, and the healing and energetic properties of beauty and color. Her current Message in a Bottle series draws on family letters to explore questions around self and lineage, as well as themes of isolation, connection, and healing. Ellen builds highly textural pieces through the laying down – and pulling up – of layers of acrylic, graphite, crayon, her own hand-painted fabrics, paper, and found objects, along with family letters, postcards, and photos.
Ellen also designs and creates original, hand-painted women's apparel and accessories, and interior goods. Her work has been featured in "Uncommon Threads" at the Santa Cruz Museum of Art and History and "ARTWEAR" at San Francisco's de Young Museum and selected by musicians as art for print and digital CD covers.