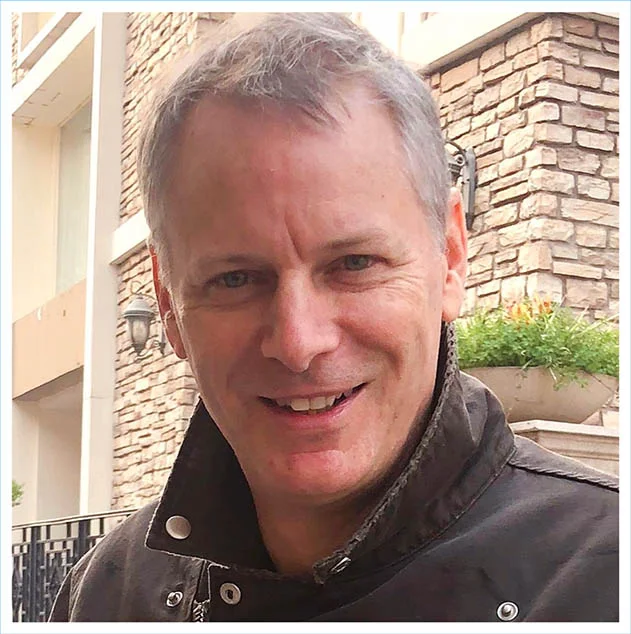 David Ebner has designed and created memorable art for Television and Cinema since he was 18 years of age. Listed by Wired Magazine as one of Hollywood's most creative individuals, Ebner has contributed to over 70 feature films and has worked with notable auteurs such as Steven Spielberg, Guillermo Del Toro, Martin Scorsese, Tim Burton, Stephen Sommers, Francis Ford Coppola, Taylor Hackford, David Fincher, John Woo, Frank Darabont, among others.

While only 22 years of age, Dateline NBC and Entertainment Tonight, the two leading cable programs were branded with title graphics created by Ebner and his team. On top of that, Ebner oversaw the graphics for HBO, Nat Geo Channel, ESPN, Skybox, among others, winning BDA and Promaxx awards. 
Ebner joined Guillermo Del Toro for Hellboy, then as a producer and production partner for Pan's Labyrinth, in which his team created the visual effects, winning over 100 film festival awards and won the best in show at SigGraph's Electronic Theater, representing the very best in Visual Effects work that year.

As the Creative Director and Senior VFX Supervisor of Cafefx, his team created the films for Universal Studio's "Wizarding World of Harry Potter."  It is still considered the most successful theme park addition, with an immediate boost of 1 million annual attendees to the park. 
Due to Ebner's talents in art direction, Ebner was invited to direct a stage show, "Long Gone Dinosaurs" which has been visited by over 4 million people. 
Ebner's watercolor, pencil and acrylic paintings reflect the emotion, passion, and feelings which percolate in his creative mind, drawing upon nature and imaginative inspirations as well as fascination by the works of Winslow Homer, Franz Marc, Claude Lorrain, Georgia O'Keefe, and master watercolor artist John Ebner.

Just as he has for many film directors, Ebner often reaches within for new possibilities and exploration to delight people, often the case with groundbreaking visuals that have never been seen before. 
​
All of my paints and substrates are of the finest quality to ensure the richness of colors last.

Before a Fine Art Print can be made, a very meticulous process takes place to reproduce the original accurately. I use one of two techniques for image capture, and that is I tile together sectional scans which only use the sweet spot of a large format flatbed scanner. The scans are carefully aligned and assembled together using specialized software and care. Otherwise, I photograph the original on a canon 50 megapixel image sensor without any filtering applied by the camera's logic chip. The photograph is taken multiple times with different lighting so that a blended image can be made which gives the most accurate result of how the light reflects off the paper given that the paper has surface depth.
Using my calibrated computer system, I color balance the scan and print test strips until the printed results are an exact match. A spectro-photometer is used to ensure accuracy.
All my prints are created using the best inks available.  The fine art papers are ph neutral, acid free, lignin free, archival grade papers which are the same top brand papers used by museums.
Plexiglass is only used on the mini 9×9 and 10×8 frames. Otherwise, all my frames are glazed with real glass and TruVue UV glass is available upon special request. 
The frames are black wood with white mattes, typically the matte's width is between 2 to 4 inches all the way around, depending upon the total size of the framed art.

My Canvas and Metal prints are of the highest quality available. I've personally visited many print labs across the United States before finding partners who put the time and care into each piece as I do.
David Ebner Art Studios is the only publisher of authentic David Ebner wall art. Each print comes with a certificate of authenticity for safeguarding. We do not license any images to any other parties for sale, so if you come across something suspicious, please let us know.

Custom size prints, and custom framing is available. Just email and we'll contact you with a quote. 
There are no returns on orders. If you are unsure about how a print looks or how the framing will turn out, we could take a series of photographs and email you before your piece is shipped. If a package is damaged during shipping, we will send an RMA and we will reship a replacement.
​
​